About Tuckahoe
Tuckahoe Recreation Club is a unique, year-round private recreation facility that offers its members a healthy family environment with many outstanding facilities and activities for everyone in the family to enjoy. 
Twitter
@RecTuckahoe
•
2 days
Our Flick 'n Float was a big hit last night with 25 kids and as many adults to watch The Incredibles 2 movie. Come next Sunday at 2 PM for The Polar Express followed by Santa, who'll be looking for his lost presents.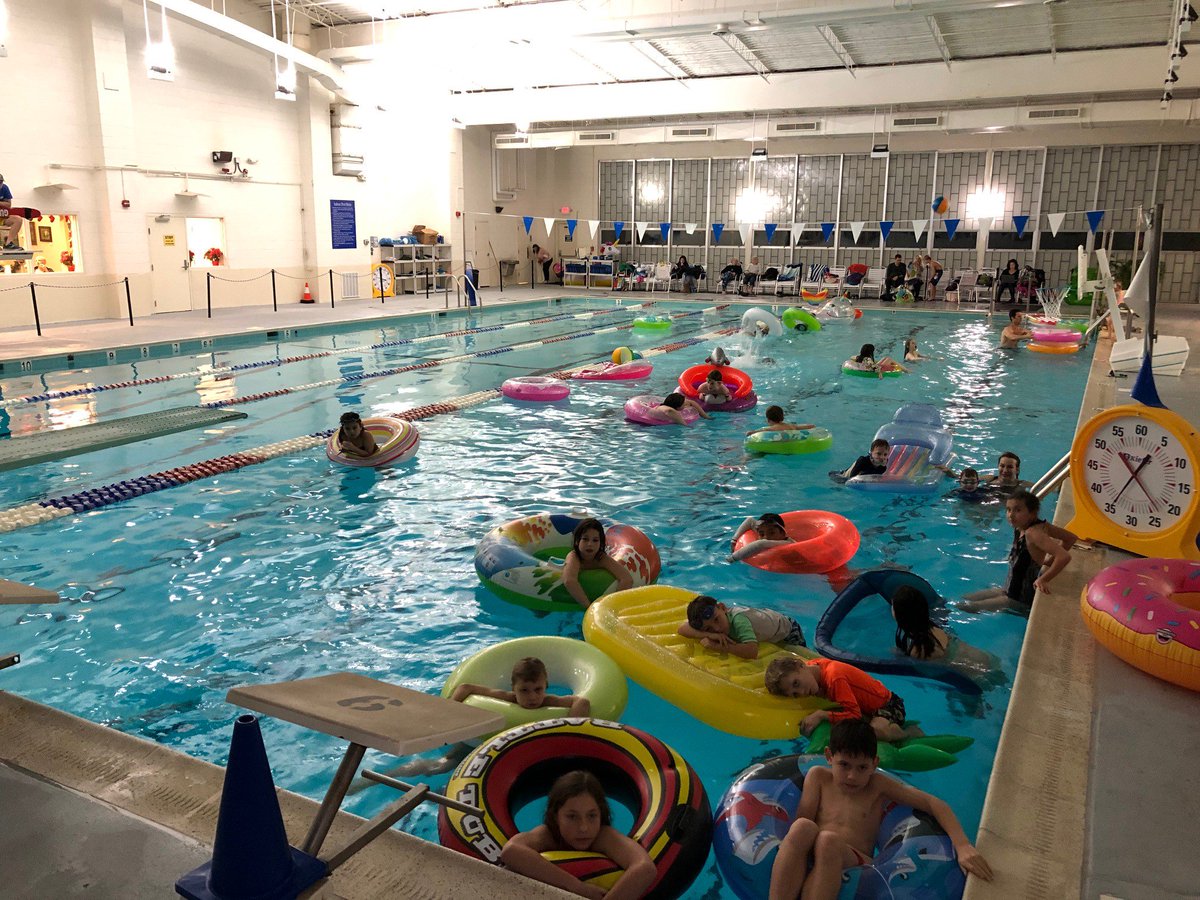 @RecTuckahoe
•
3 days
Remember this afternoon's Flick 'n Float movie at 5 pm featuring the movie "The Incredibles 2". Bring your own 1 person float or use one of our float rings. See you later today.
@RecTuckahoe
•
2 weeks
Tuckahoe Members! The Sauna in the men's locker room is temporarily 'out of order'. Parts are on order, and the sauna should be up and running again in approx. 5 days. We apologize for any inconvenience this may cause.
@RecTuckahoe
•
4 weeks
To all of our Veterans out there who claim Tuckahoe as their club of choice, THANK YOU!. Hope you had a wonderful Veteran's Day today. To all those whose family members are Veterans, THANK YOU as well, for letting and/or encouraging your loved ones to serve their country.
@RecTuckahoe
•
1 month
Tomorrow is the big day when you'll get a chance to experience Tuckahoe's first ever Fall Harvest House made especially for kids. The fun begins at 4 PM and so does our special Halloween showing of Hotel Transylvania 2. Come join the fun!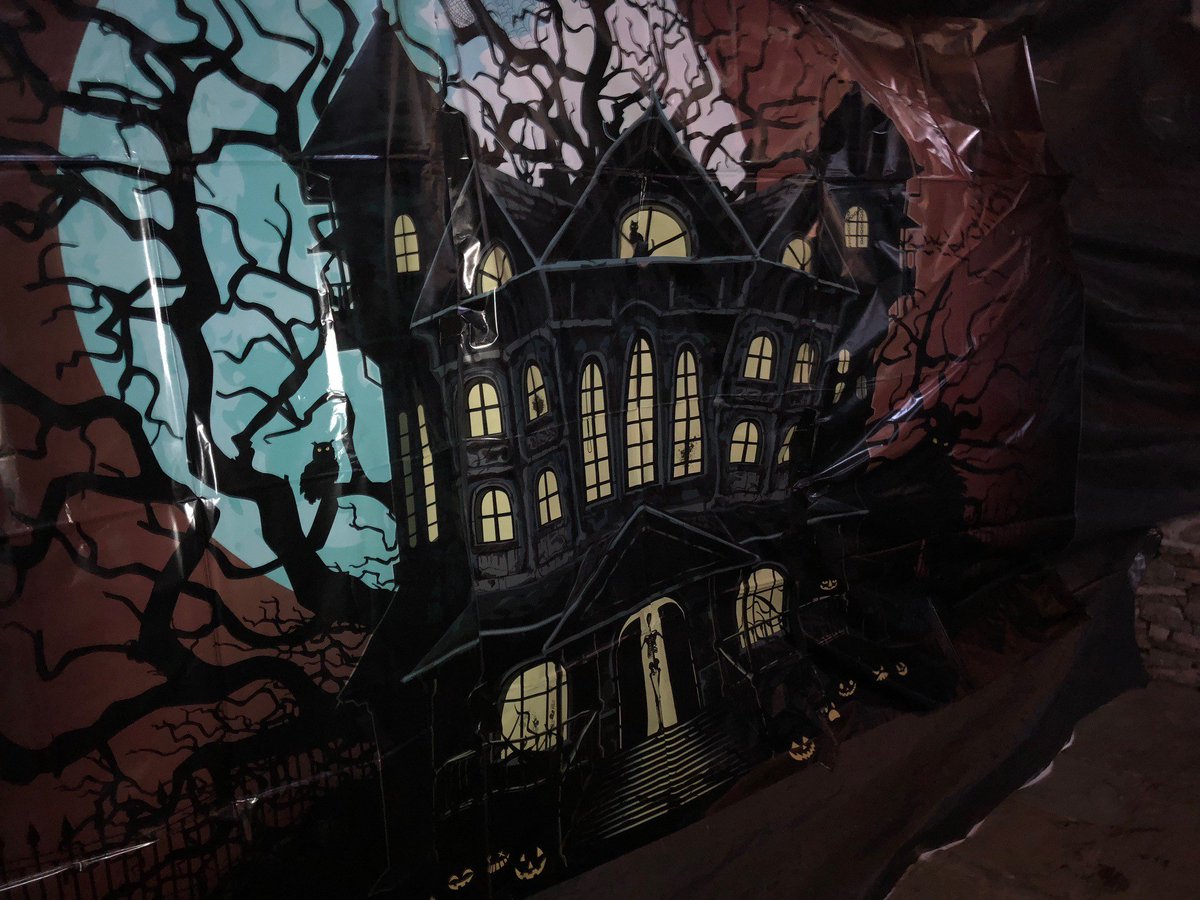 @RecTuckahoe
•
2 months
Greetings Tuckahoe Community! With rain coming on Saturday, *Halloween at Tuckahoe has been postponed* We have a *NEW DATE AND TIME* Saturday, November 3rd from 4:00–6:00pm. So, go and collect your goodies on Wednesday, and on Saturday come back out in your costumes to Tuckahoe!
@RecTuckahoe
•
2 months
Please come by and meet Mary Austin, our Personal Trainer! She will be giving two informational sessions in the weight room to answer questions and demonstrate using the work out machines. Saturday, Nov. 10 at 11:00am, and Tuesday, Nov. 13 at 6:30pm. Hope to see you there!
@RecTuckahoe
•
2 months
**Reminder** Due to the Columbus Day Holiday on Monday, there will be no swim lessons on Sunday, 10/07/18. Thank you!
@RecTuckahoe
•
2 months
Tuckahoe is pleased to announce a free one-hour Yoga class with Leah DiQuollo, Sunday, September 30th at Noon. Leah teaches Yoga on Thursday mornings from 9:30-11:00. You can check out the Yoga schedule on our website, which has been revised to provide faster downloads!
@RecTuckahoe
•
3 months
Got about 14 kids come out for the indoor movie tonight. Sorry if you missed out. I think we might make this a habit once a month. Let us know if you'd like us to do so.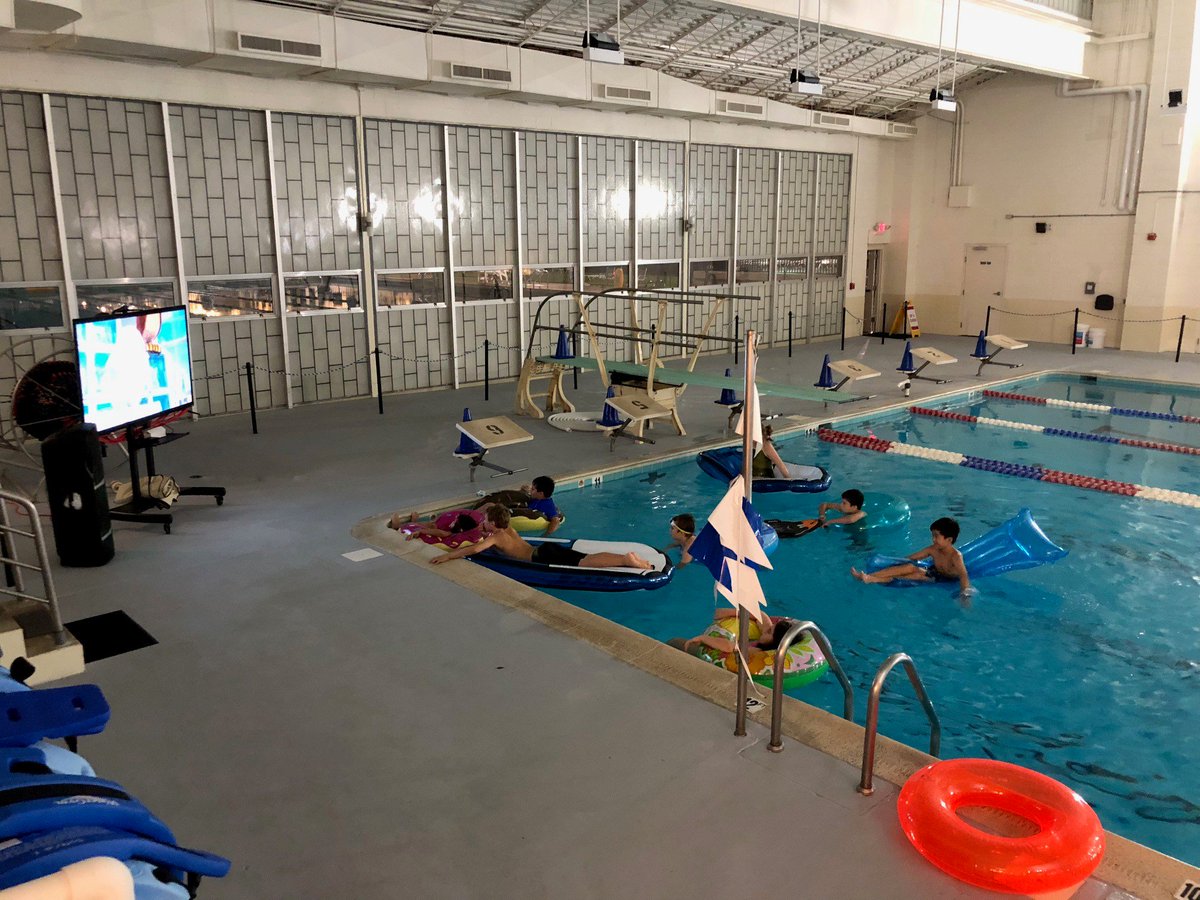 @RecTuckahoe
•
3 months
Due to impending thunder storms, outdoor pool will remain closed today until 3:30 when the weather will be reassesed. Indoor pool remains open from noon till 3:30 for member swimmng and from 5:30-9 PM, unless outdoor pool opens up at 3:30. Then indoor will reopen at 6 PM
@RecTuckahoe
•
3 months
U.S. Open / Labor Day Tennis Social is going to be great...especially if you join in on the fun. Your name could be drawn for an authentic 2018 U.S. Open poster signed by Roger Federer this past week. Sign up at the Front Desk. Check out the website for further info.
@RecTuckahoe
•
3 months
Fitness Center closed tomorrow for equipment painting; will reopen Sunday at regular time, 9 AM and on Monday - Friday, 6 AM - 9 PM. Winter Bath House will stay closed until next Saturday, September 7th, to allow for more painting to be done. Sorry for the inconvenience.
@RecTuckahoe
•
4 months
Ok, all you Burger Chefs, bring out your best this Saturday for the first annual Burger Cook Off. You can bring your own burger to cook on the grill or let us provide the burger for you. The rest is up to you. See you at noon where you'll find a hot grill and hot competition!
@RecTuckahoe
•
4 months
Tuckahoe Annual Indoor Pool Closing for Cleaning! Starting August 18th through August 31st, Tuckahoe will be opening the Outdoor pool at 8:00am, Monday through Friday only during the two-week shutdown of the Winter Bath House Indoor pool for repairs and cleaning.
@RecTuckahoe
•
4 months
*Correction* From September 4th through September 16th each pool will be open as follows: Indoor Pool – Open from 8:00 am – 12:00 noon Outdoor Pool – Opens from 12:00 noon – 6:00 pm Indoor Pool – Opens back up from 6:00pm – 9:00 pm Thank you.
@RecTuckahoe
•
4 months
From September 1st through 3rd the Indoor Pool and the Outdoor Pool will be open from: 9:00am – 9:00pm
@RecTuckahoe
•
4 months
Outdoor pools have opened up with weather clearing.
@RecTuckahoe
•
4 months
Due to the inclement weather, outdoor pools are closed for the rest of the day. Indoor is still open for swim. Tuckahoe Mgmt.
@RecTuckahoe
•
4 months
Hey Tuckahoe Members, did you know you had some top level fellow swimmers and divers? Mani Borowski is just one, having claimed the #7 and #9 World ranking in individual and synchro diving respectively last week. While JT Ewing claimed the National ranking of 13 in back stroke.
@RecTuckahoe
•
4 months
Saturday, August 4th, 4:00 PM: Intermediate pool is closed for next 3 hours. Sorry for any inconvenience this causes to our members and their guests.
@RecTuckahoe
•
4 months
Calm before the storm as all @NVSL Division 1 teams get geared up to bring their best to @RecTuckahoe club to swim it out in the blue lagoon.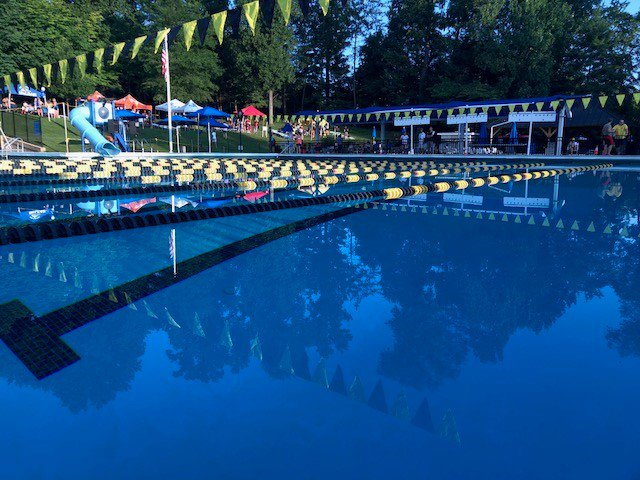 @RecTuckahoe
•
4 months
Divisional meet wraps up swim season as Catherine Hughes and Nolan Dunkel, swim faster than anyone in Northern Virginia ever has. Catherine sets new 50 breast stroke record in 34.40 seconds, while Nolan sets 50 fly record with 28.47 time. @rftwdmv, @swimninja, @swimnvsl.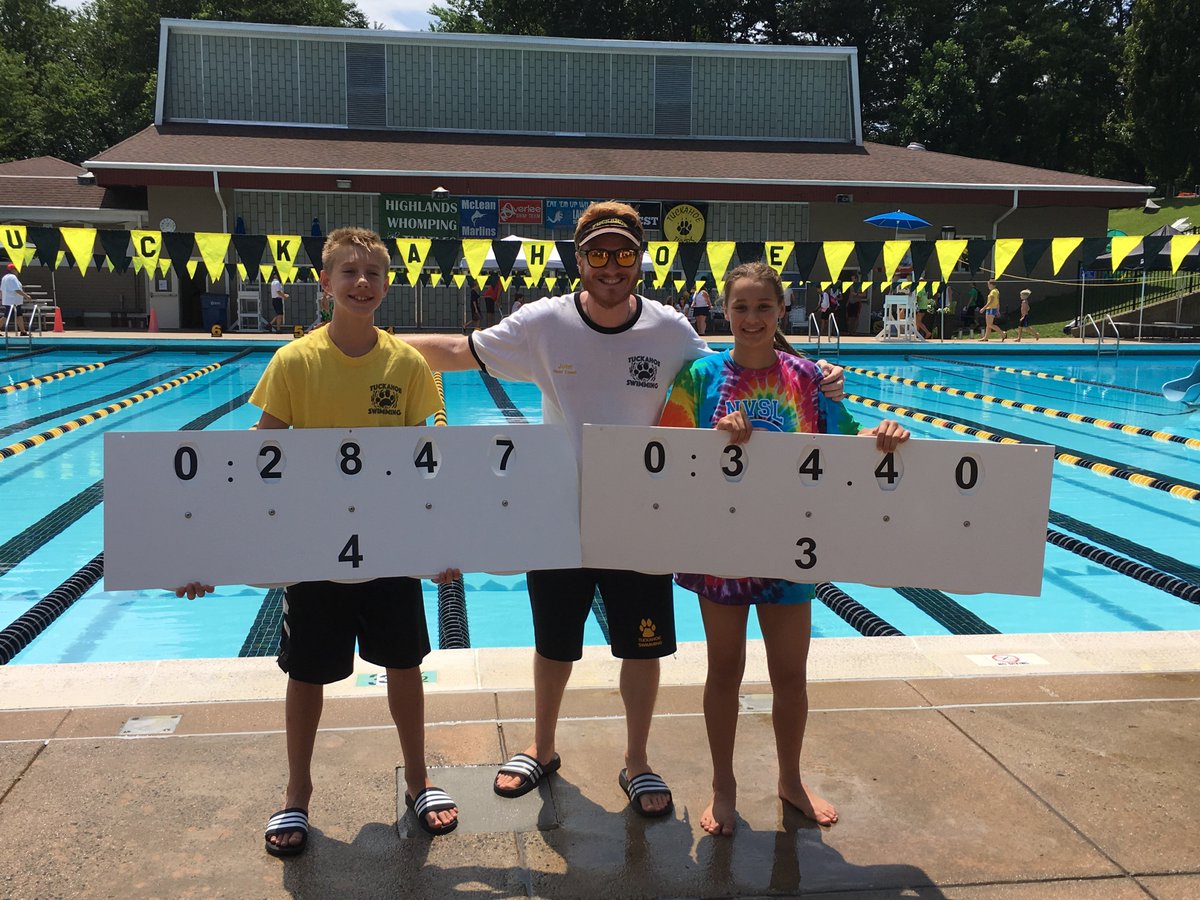 @RecTuckahoe
•
5 months
Dive team honors it's team members, coaches, and dive reps as well as reporting on the world junior dive championship results for Mani Borowski, who finished 9th in the WORLD for the boys 3m Synchro category! Congrats Mani and the rest of the Tuckahoe Dive team for a great year.
@RecTuckahoe
•
5 months
Teddy Bear Tea - Big success yesterday! Sunshined graced the hillside allowing over a dozen children to enjoy some tea and animal crackers, while meeting Vinnie the Pooh, Winnie's cousin. Thanks to our hostess, Miss Patty Beard & to all the Moms who brought their little ones.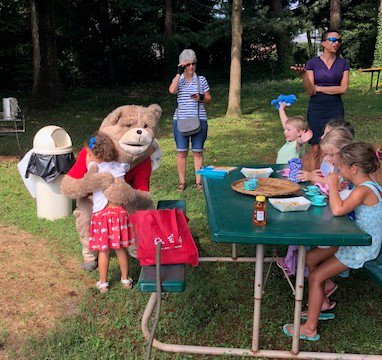 @RecTuckahoe
•
5 months
Reminder to all members that the club will be closed until 4 PM this Saturday for the Individual Divisional meet. Tuckahoe has arranged for its members to be able to use both the Overlee and Highlands Swim Clubs for Saturday morning and early afternoon.
@RecTuckahoe
•
5 months
Rallying the team for the last home meet against Highlands. Great energy and passion from the team.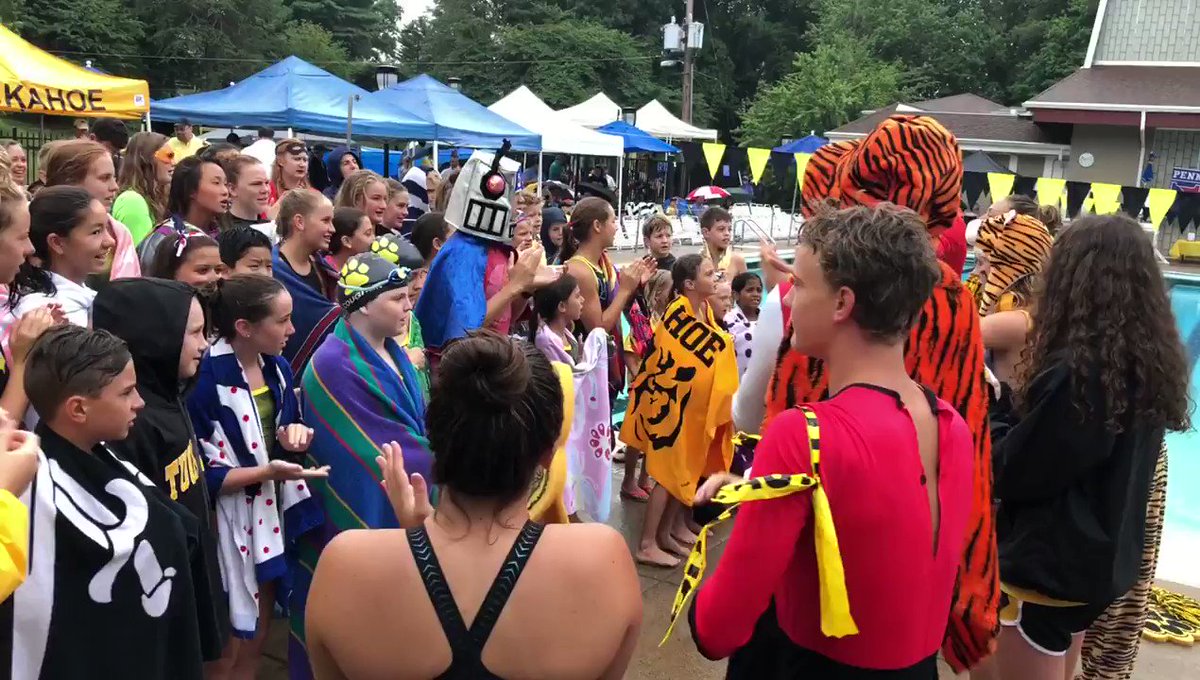 @RecTuckahoe
•
5 months
Young and old swim team members joined in the intermediary pool last week to have some fun and create some memories. Great time for all.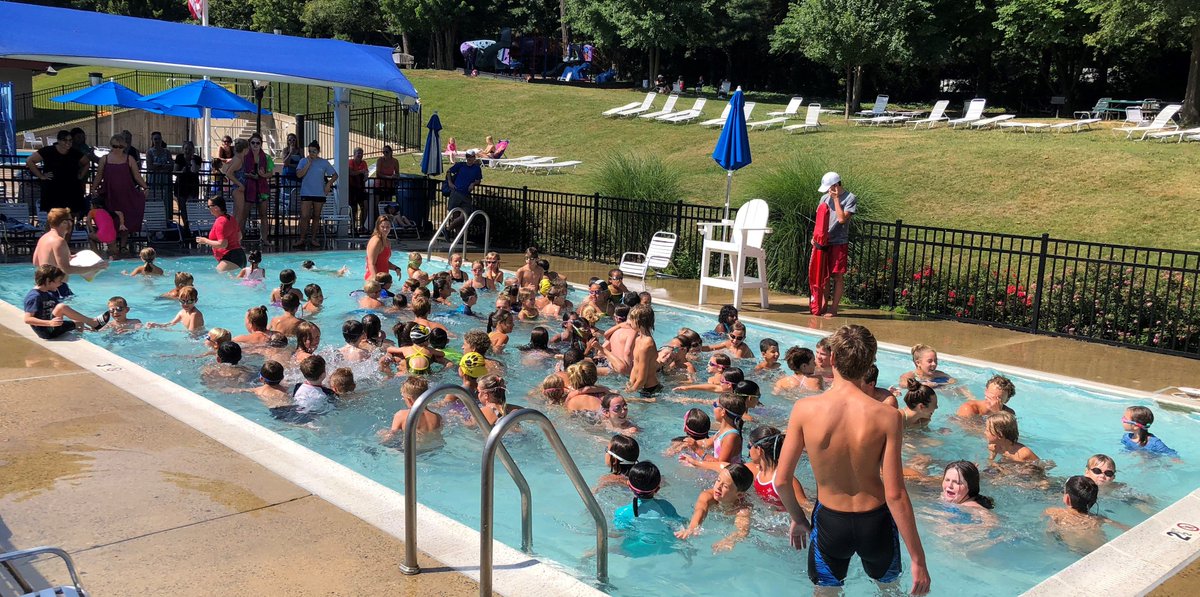 @RecTuckahoe
•
5 months
Swim team 2018 season almost at an end. Come out and watch their final efforts at this Saturday's individual Division Meet. Dive team has it's last home event this Thursday when adults go up against the kids in a dive meet judged by the kids. Potluck at 5 PM; Diving at 6:30 PM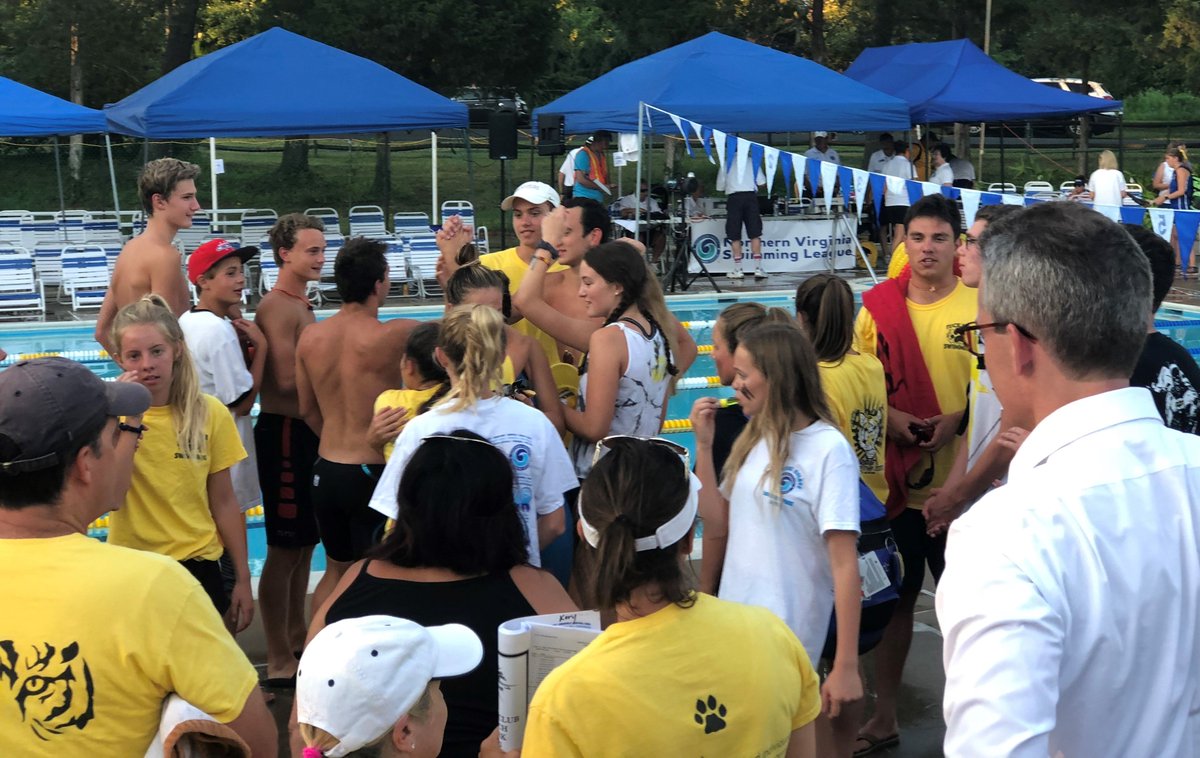 @RecTuckahoe
•
5 months
Crab Feast last week held on throughout the rain...unfortunate for the crabs...great for those who attended.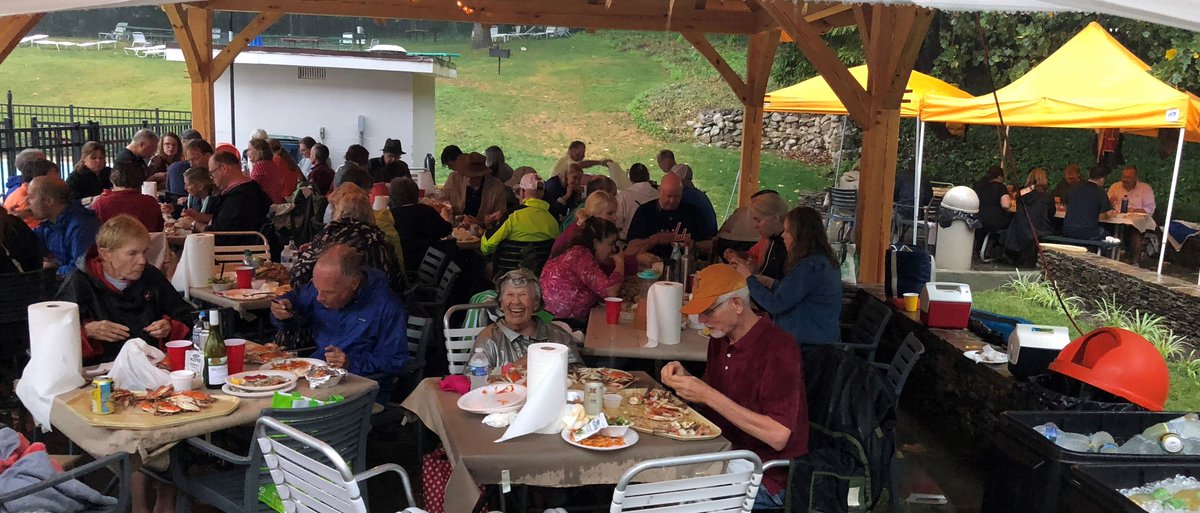 @RecTuckahoe
•
5 months
Just a reminder to our Tuckahoe membership and their guests: For the safety of all who attend the club, NO GLASS or CERAMICS are allowed on site. Accidental breakage of either could prove dangerous for anyone barefooted, whether on the pool deck, locker rooms, or hillside.
@RecTuckahoe
•
5 months
Remember members that the club will be closed this Saturday until 4 PM due to the NVSL Divisional Meet. If the weather is good, we may be open earlier. Just check with the front desk after 2 PM.
@RecTuckahoe
•
5 months
Reminder for all those teddy bear lovers: Teddy Bear Tea tomorrow at 10 AM and we've heard a rumor that Winnie the Pooh will stop by for a little bit. RSVP at membership@tuckahoe.net or gm@tuckahoe.net. No charge to attend. and all teddy bear fans are welcomed.
@RecTuckahoe
•
5 months
This past Saturday's deluge of rain didn't stop the annual Crab Feast from a taking place with over 70 attendees. Hopefully, tomorrow,July 23rd, Monday's Swim Meet at 6 PM will not be so burdened with rain. Remember outdoor pool (large and intermediate) will be closed then.
@RecTuckahoe
•
5 months
Tomorrow there is a Saturday Swim Meet at Tuckahoe at 8:00am-Noon. Outdoor pools will be closed during the meet and will reopen to our membership following the meet. The meet will be against Highlands Swim Club. Go Tuckahoe! (Clap)
@RecTuckahoe
•
5 months
***Teddy Bear Tea*** has been postponed to next Thursday, July 26th 10:00am. Please accept our apologies for any inconvenience this may cause. Please RSVP at gm@tuckahoe.net.
@RecTuckahoe
•
5 months
GOOD LUCK TO ALL RELAY TEAMS TODAY AT ALL STAR RELAY CARNIVAL AT LINCONIA PARK!!
@RecTuckahoe
•
5 months
**CRAB FEAST** Please join us for our delicious Crab Feast All-U-Can-Eat, Saturday July 21, 2018 from 6:00pm - 11:00p.m. The cost is $50 for members, and $60 for non-members. Please sign up at our Front Desk, and hope to see you there!
@RecTuckahoe
•
5 months
Best of Luck to the Tuckahoe Swim Team. Tomorrow morning's meet is against the Flying Fish @ Overlee. Go Tuckahoe! (clap)
@RecTuckahoe
•
5 months
Join us Tomorrow, July 14th, from 1-5pm for TUCKAHOE DAY! This annual celebration includes music, popcorn, moon bounces and much more to entertain the whole family. Note: Lap swimming will be limited to our indoor pool during this event.
@RecTuckahoe
•
6 months
It's Meet SEASON!!!! Black and Gold is this Saturday and ALL out door pools are closed until 1 pm. The indoor pool is still available for member use at 9 am. See you at the Club!
@RecTuckahoe
•
6 months
Attn: The locker room switch will remain in effect until 6/12/2018 in the Winter Bath house. Men use Women's room and Women use Men's room. We thank you for your patience.
@RecTuckahoe
•
6 months
Dive Team Practice has been cancelled for tonight 6/11/2018
@RecTuckahoe
•
6 months
Tuckahoe Swim Team Practice is cancelled for tonight 6/11/2018.
@RecTuckahoe
•
6 months
Good Morning Tuckahoe!!!! Wednesday is the last day to sign up for Session 2 Swim lessons! Sign ups can be done in person (for non-members) and for members in person and through your online account. See you on the deck!
@RecTuckahoe
•
6 months
We are prepping for the wine tasting!!!! The line up is looking good. Please sign up at the front desk for this event and don't forget to bring your wallets you can buy what you taste!!!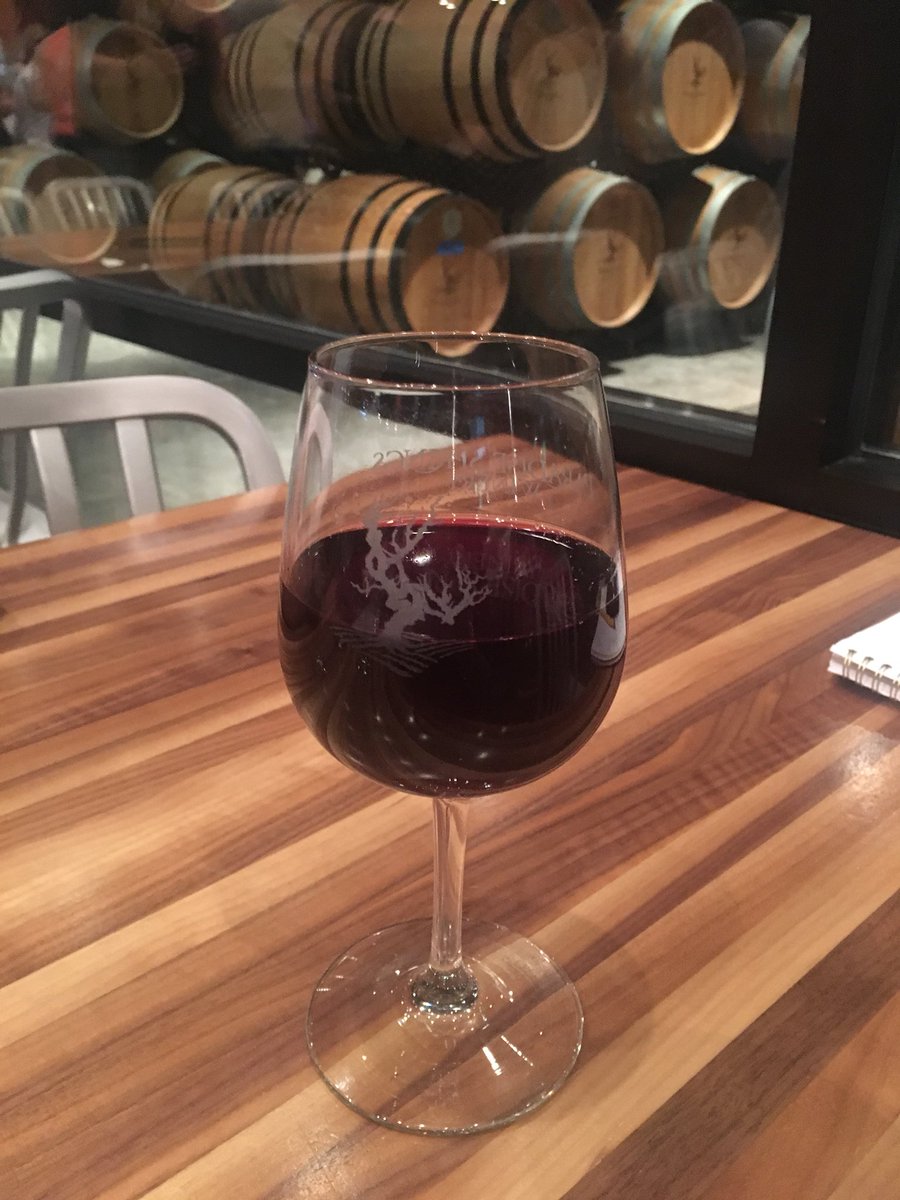 @RecTuckahoe
•
6 months
Your management team wishes to inform you that the scheduled Flick 'n Float has been cancelled due to the impending weather tonight June 1, 2018. We hope to see you at the reschedule Flick 'n Float on June 8, 2018 at 7 pm. Don't forget to join us Sunday for Coffee and Donuts!
@RecTuckahoe
•
6 months
Hello Tuckahoe!!! We have a raffle going on at the Front Desk this week. We will be raffleing off a lesson with the General Manager Rob Castorri! The drawing will happen on June 2 from 3-5 pm on the Tuckahoe Courts.
If you have a Twitter account, follow @recTuckahoe and select "turn on mobile notifications" to receive our tweets as text messages.
If you do not have a Twitter account, you can still receive text updates. Text "Follow recTuckahoe" to the number 40404.